Hi all,
Hoping someone can help me with dilemma......kind of frustrated with it at the moment.
I bought a 95 Virago that has had a bit of a bobber treatment, just kind of fell for this thing when I saw it but it has yielded some frustration. The original indicators have been taken off and replaced with some little aftermarket indicators. I do like them and would like to use them. They are the same as these in the photo below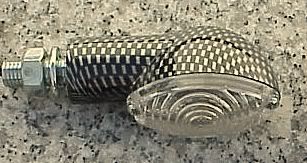 I am having trouble working out how to get them onto the bike. I have tries many different types of "Will fix anything to almost anything" type of adhesives to glue the nut into place only they haven't worked. In the photo below is where I want them o be located on the bike.
So I have used Araldite as you can see in the photo below. I was just wondering if anyone thinks this is a bad idea. I have used it many time to hold things together on cars but not bikes and not plastic to metal.
Any thoughts?