Why?....because i broke a belt..and it seems like right time to play around with gearing to get better highway experience
Waiting for rescue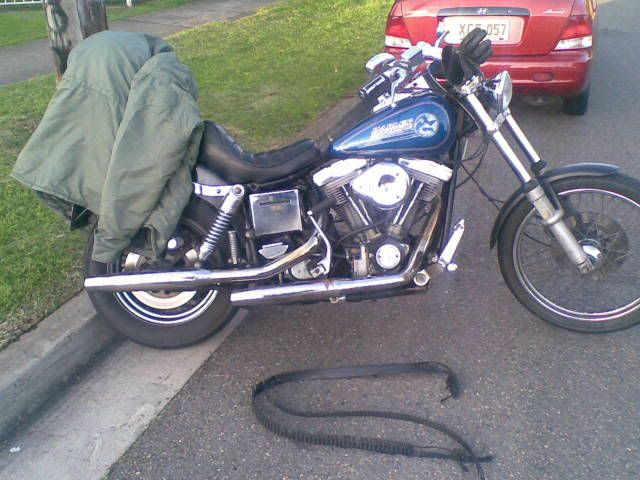 old carpet rolled out so i dont have to lay on cold concrete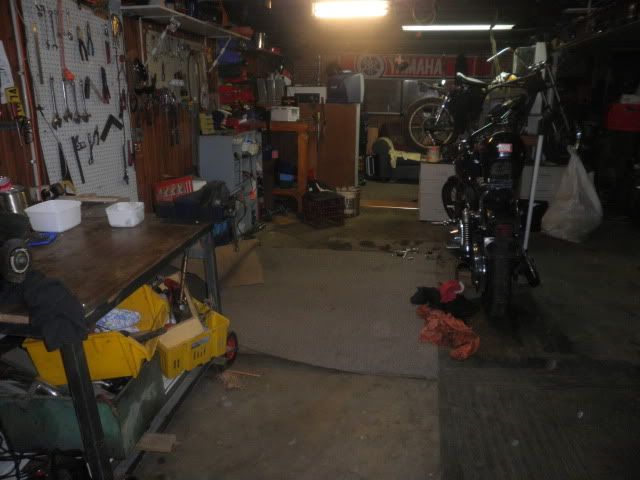 Primary off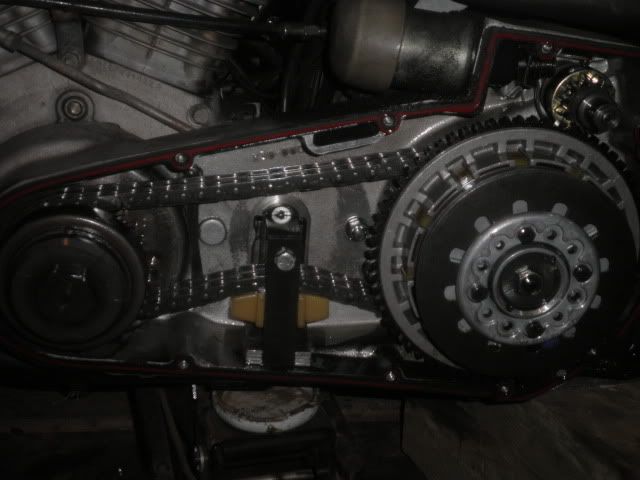 from this point your going to need some specific tools.
1. 1" 1/8th socket to remove clutch nut - it is left hand thread so undoes to the clockwise.
2. 1" 1/2 - socket to undo front primary sprocket...its a normal right hand thread so undoes anti-clockwise.
3. a clutch puller....or in my case 2 x 24" tyre levers (not as likely to leave marks on soft alloy as broader than screw drivers)
4. a chock to lock primary drive from rotating.....i used a random piece of 530 roller chain,,, for undoing both clutch and rotor i put it in the appropriate side and the primary chain rolled over onto it and locked it enough to undo....then i just rotated drive in the other direction, chain came free..........................I did this after having undone the clutch (because i did not own right size socket for rotor/ and found it is 100% nesacary to take both componants off).
What to do...... undo clutch by poping centre circlip out....under that is a little plate with your clutch adjustment, pop that out and you will see nut under it (dont forget to grab the pushrod component -its about 1" ong and you dont want to lose it)....use your 6" bit of chain, place at bottom of clutch, and using a bar undo your clutch nut......takes a fair bit of effort, to get it to crack/ remove bit of chain.
next, go to front sprocket, put 6" bit of chain at top and undo anti-clockwise will take LOTS of effort to get it to crack.
then slowly and rotating your clutch 1/4 of a turn or so everytime, use your tyre levers (i am such a butcher) or clutch puller to pop the clutch...supposedly if you refit clutch components/minus nut..the activation of the clutch may cause the basket to pop off.......didnt work for me.
some time around now remove your chain tensioner...i did it first and was still able to do all this.....
you will now want to turn your attention to your starter motor.....this had me baffled for a little while.... so i actually pulled the oil tank too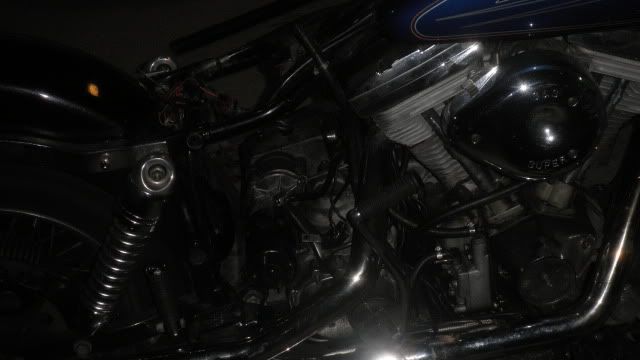 this at least gave me a bit of room to wriggle bits around until i figured it out.....first theres 2 x 7 1/16th bolts in top of starter motor housing where it hooks up to back of primary case. undo these....then you need to undo the long skinny nut/bolt/stud bit that runs through starter motor and into that same housing......the main piece of starter comes off and you will see an allen headed screw holding the remainding piece of housing on...undo and remove primary....oh dont forget the solinoid.
undo belt sprocket thingy (yes that is a technical term - try and keep up will you) you will need to construct a tool that acts as a socket (pic to follow shortly) if you dont have the HD approved special tool. also use this to tighten your new 24 tooth front drive sprocket....
ok.... it all happens quick from here......basically you start re-assembly...you checked the various seals etc youve come across havent you? and the bearing in the back of the primary.....add a little grease etc and hook in......dont forget to put the keyway that fell out of your clucth from the g/box main shaft back in.....when you slide the clutch back on.....and be careful that little sucker likes to slip backwards and not seat properly.....i did mine 3 times before i decided to put a bit of gasket cement on it to help it stay put.....worked a treat.
heres the tools i acquired or found absoloutley nesacary for this job...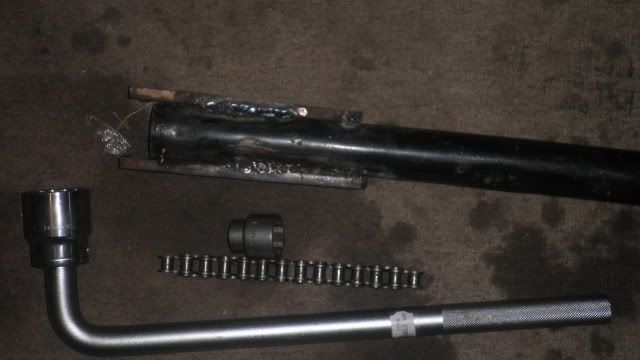 the thing with ugly welds (ill clean em up later..is the bit you use to undo the nuts from the g/box mainshaft, i just left the pipe longish and used a big plumbers wrench to turn it.....
next was put it back together as much as possible and start on rear wheel...you need to get rid of the rear belt sprocket and replace with the cog/sprocket.....i used a 49 teeth jobbie.....i had to buy new bolts to hold the sprocket on. i was told the belt sprocket bolts would be too long...i suppose they were, i didnt check, as i burred 1 or 2 nuts from the back of it as they'd been on there for some time....they're 5/8th ...
ok basically mount your sprocket, your chain and your good to go....i threaded my chain from underneath on the front sprocket and used the teeth to drive it around to the top where i hooked a bent welding rod into the link hole to drag it the rest of the way through.
The finished product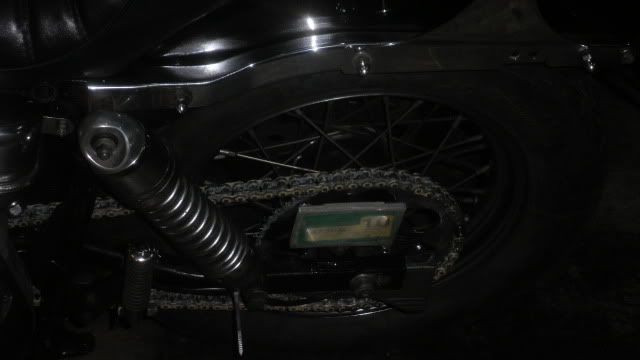 The verdict.....
Bloody Brilliant, using the old SOP guage i reckon its dropped 500rpm at 60mph....(so maybe only 350rpm) and its an effortless 80mph cruising (not that i would)....has only lost a little pick up off the lights, but not enough to care about...and it just feels more relaxed on the highway....mission accomplished.