New bloke here,
Im new to road bikes and such, looking at getting my license shortly, been riding offroad bikes since i was a lil bloke though, owned a fair amount over the years.
I Have been thinking about building a bobber for a few years now,
Im building a street/drag car at the moment, 1958 vw beetle, cut it up pretty good, 3inch transmission raise, 4inch narrowed and adjustable front end, drop spindles, wide rims in the rear with 205's, skinny tyres up front (145's they arent on it yet), etc etc etc the list is long, good fun, keeps me busy, keeps the wallet empty.
but its at the point where i need another project to step away from that car for a little bit before i burn it to the ground
I bought an xv250 a month or so ago, for what i paid i couldnt say no,
but on closer inspection, i dont think it would be a good candidate to chop up and build the type of bobber i would like.
It has a horrid backbone (intake goes through it), so i would have to cut that out, weld in a new back bone and then do the hardtail. I think thats too much to slip through rego unnoticed haha.
So i will probably clean it up give it some fresh paint and a couple of mods to clean it up, get my L's on it and then i will sell it to fund another bike that i can hardtail a little easier, while being learner legal assuming learners can ride modified bikes?
I do alot of work on bikes and cars (and other stuff) for mates and mates of mates so the garage and driveway is always full, always good fun at my place!!
So i have come to this forum to gather some knowledge on what i can and cannot get away with in regards to chopping up a bike and getting it in the road in nsw.
I did have a skim read of the RTA vehicle standards crap, but theres barely any info there, plus i see alot of bikes on the road with bits and pieces i would think arent legal and the cops dont seem to touch them, more interested in the commodores and p plater cars.
So i thought, why not get some first hand info from some blokes who actually know.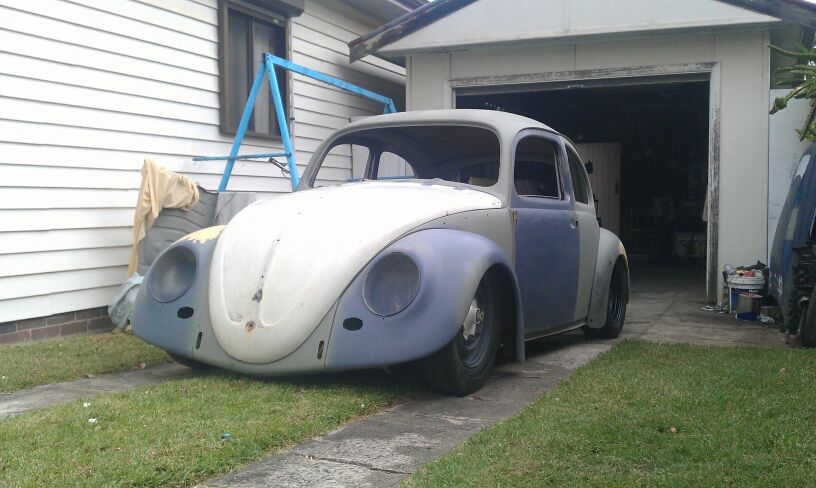 Not the greatest bike, but again for what i paid, i cant complain, and im only a small build bloke so i fit on it, unlike my mates bikes (650, 1200) where i can barely even touch the ground
Heres a pic after I finished a Late night clutch change on my mates 1200 (i forget what model it is now...) which is sad because i did the body work and paint on that bike too.
excuse the bad picture, they dont come out well with all the fluros in the garage.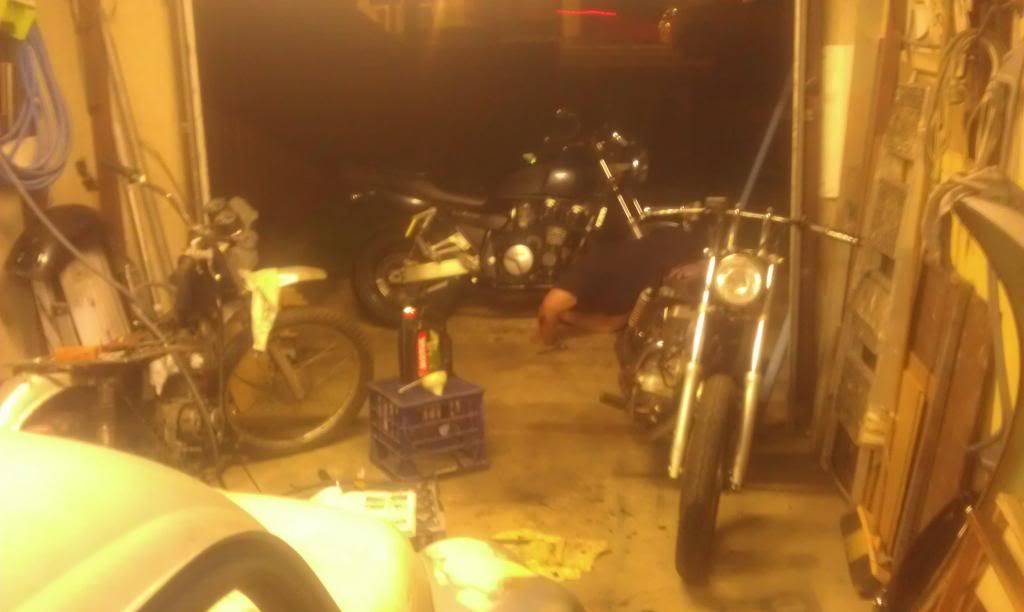 Anyways, I will annoy you guys with some questions after i have had a look around the forum at all the threads
Cheers
Andrew