Hi all, my name is Steve but my mates in Mt Gambier call me Bacca because they reckoned I came from the back of Boort (not baca) About 4 years ago I moved back to Boort to be near my elderly mum. My wife is on a disability penction & I look after her & our 4 kids so am trying to build a chop for under 2 grand! Vic has cheaper rego for 250 to 500 so looked for a bike up to 500 hopeing for a Yam sr500 single but they were to dear. a Kawasaki KZ440 twin came up for $407 so I got that off eBay.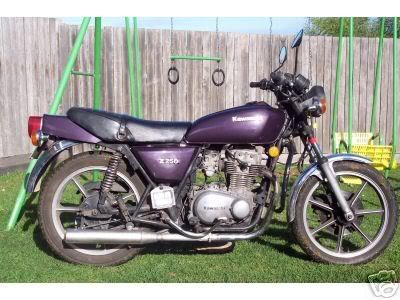 Got on road and after a couple of mounths started making changes.
Tossed ducktail, bobed the frame, turned rear guard up and fitted a cross tail light and banana seat that I had in shed for years. after a few more mounths I took it off the road & cut the frame infront of shockers to lower seat.
Over the last 6 mounths many other mods have been made. I missed a restored BSA plunger rear bolton frame on ebay which would have lenthened it and lowered seat more while not killing my back. If I can find a bolton Trumpy plunger rear I will fit otherwise will lenthen swingarm so I can move rear guard back. Moved back footpegs. Front footpegs going 7" faward and brake pedal going on old footpeg bolthole. Useing old rearset gearshift turned faward on other side. pegs will be inline with crankshalft. I am going to fit a Kawa KLR600 disk front which is about 5" over stock. It came with good bearings but no caps as he had tossed the frame, so after steering head with tapered bearing caps off KLR. It has a sportster tank and seat as the other seat got very hard after half an hour. Have bates headlight. custom blinkers and cross morror to go on when finished. Have dark blue metalic & electric blue perl to go on top. Will get mig welding done at place in town when front end is on. Hope you like it, looking faward to getting it on the road and knocking up some K's. Regards all Bacca.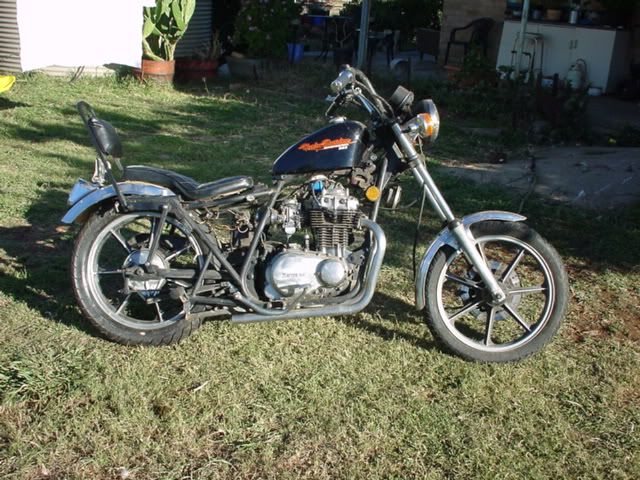 4" slugs fitted to forks