Well it seems apparent that I bought a bit of a heap
but of course that's what happens when you over enthusiastic and uninformed.....the good news it's well and truly repairable and will probably cost more elbow grease and late nights than money so it could have been much worse.
So i have started the build and thought I would post as I go, being my first bike and bike project any well meaning and good natured advice and ribbing will be accepted
So I have made something that resembles a stand\table and managed to get the bike on it. Unfortunately I didn't get a photo on the stand before I started pulling it apart so here's one of it of the stand but it is pretty much as I bought it.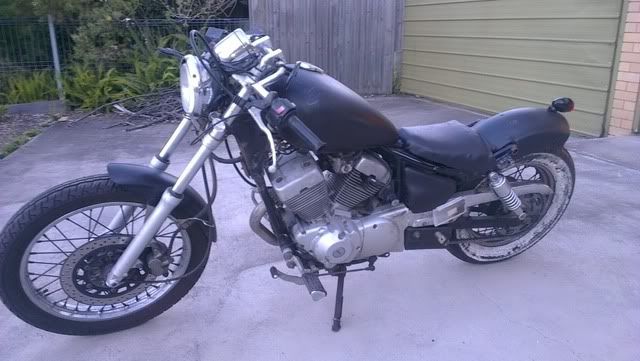 This is how she looks after night one. Only put in a about and hour and half tonight as it was 9:45 pm by the time I got started and well I am missing a big enough socket to keep going, so I thought I would get my build thread going and start again tomorrow.
Was really hoping to have the forks off tonight but that is where I feel short of the mark with the missing socket. Hopefully by tomorrow night it will down to not much more than the frame and a whole lot of parts.