Hi all.
The bike I'm getting ready for the road has a 12" over front that was a nice stance and a great look with the raked trees when i got it but is way too long to go through rego. I've swapped the raked trees for a stock set and have slipped the fork tubes up through to try to get the stance and geometry right, as well as mixing and matching a few other parts. In an effort to get inside the 550 rule and keep rake and trail angles right i've slippeed the fork tubes 150mm up through the trees. In effect creating a 6" over front.
My question for you all is this, has anybody tried using a fork brace at the top of the fork tubes and mounted a small set of risers and handlebars from it? Thus doing away with the tall risers mounted to the tree? The ones on the bike now are 7". The idea is that it would give a long slick look without having a front that is going to get me put off the road. I'll take a couple of updated pics today.
Any ideas or thoughts appreciated.
Cheers.
This is what the bike looked like when purchased.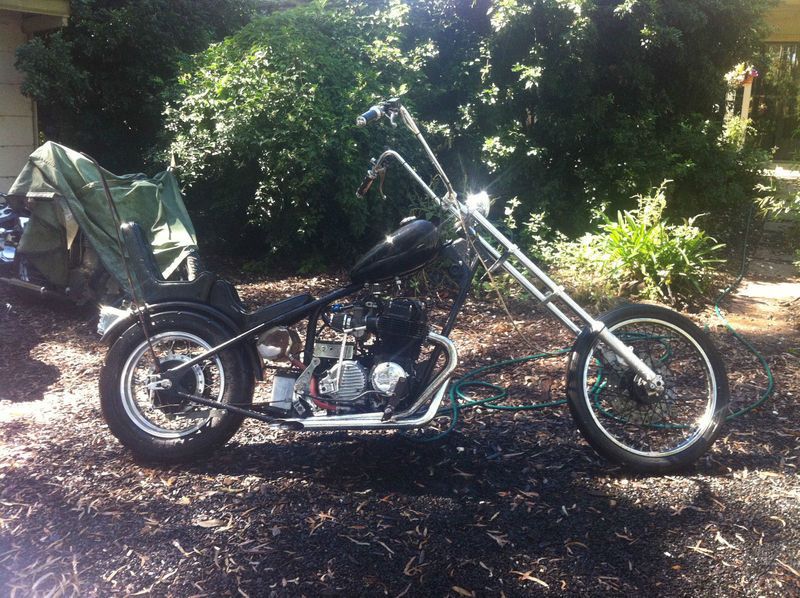 This is closer to what it looks like now. Although the King/Queen seat is back on, a front mudguard is fitted and there are brackets for a set of pillion foot pegs