A lot of us remember this beast built for dragging, more recent was saddened to see just the engine on eBay
Well a pic on another thread motivated me to do a dig for pics & found some more resent info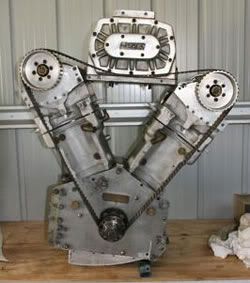 "This engine was built in 1982 and was adapted from a 27 liter V12 aero engine by Australian engineer Lucky Keizer. According to the listing it was used in a streamliner that holds the current Australian record for the 3001cc+ class. The particular V12 used as a source for this V-twin was originally at home on a Mosquito bomber.
The engine uses a handbuilt crankshaft, has 4 valves per cylinder, runs a Rochester carb on a GM 3/71 supercharger. It also includes nitrous with water and glycol cooling. Power output is in the 500 horsepower range though no torque figures are given, those are the numbers I'd like to see! It weighs 330 pounds.
This engine was previously installed in a motorcycle and the photo here has circulated around the Internet for some time. Lucky Keizer has put the engine up for sale, ready for someone else to install it in their own VERY special V-twin custom."
http://thekneeslider.com/archives/2006/ ... -for-sale/
Merlin Streamliners
http://home.st.net.au/~fettesi/merlin.htm
Team Merlin driver and owner ready for the return tow to the pits at Lake Gairdner, South Australia, March 2002 with a new towing dolly and fresh paint job.
A review of the future of the original streamliner indicated that while it was very useful as a test vehicle, there were a number of problems in achieving the ultimate goal with it. A smaller section streamliner has now being developed, but sadly there was not be enough room to fit the original Merlin V-twin.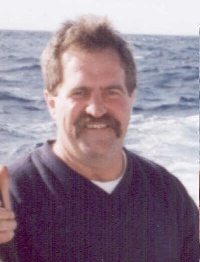 The man with a dream - design it, build it, do it, and all in the most innovative way.
Ever since Lucky can remember, he has had a fascination with engines. Of course, an engine is only the starting point. You then have to do something useful with it - what better thing than to go faster than the competition.
As an 11 year old he started on the right track by fitting a motorcycle engine to a baby's pram, complete with steering and brakes. The local constabulary were less than impressed when Lucky tried it out on the street though!
Since then, and amongst other things, Lucky has built a gyrocopter plus of course, the now famous Merlin 5 litre V-twin. His engineering skills are much sought after within the local motorcycle fraternity, with his custom frames a specialty. He has an uncanny feel for engineering, and does not need fancy computers to know if a concept will work or not - his years of field experience stand him in good stead.
Needing an outlet for his talent and enthusiasm, he initially applied himself to the drag racing scene. After a while this area seemed less then ideal, so he changed focus to setting Land Speed Records. That is where we are today.