---
Posts: 927
Joined: Mon Jun 25, 2007 10:11 pm
Location: Brisbane
And quote
"Q: is it road ready?
A: As road-ready as any authentic old-school chopper can be; was ridden last month. It's definitely a he-man's ride."
Obviously the owner didn't think about rebuilding it, or he's actually a girl
"There is no heaven, there is no hell, except here on Earth."
---
Founder, Choppers Australia
Posts: 5936
Joined: Sat Oct 22, 2005 3:54 pm
Location: Willunga, South Australia
Contact:
Now, THAT is agenuine gooseneck, the modern ones should be called ducks necks or something.
Chopit'nrideit... Prof
---
---
---
---
---
Well there must be something wrong with me because I think that the shovel looks like shiite and the chop has way to many lines and therefore doesn't "flow" and looks too busy and I don't like it at all. Maybe it looks better in the flesh?
Yes it's nostalgic, but being old doesn't necessarily make it cool.
Harleys SUCK - Real men ride Yamaha's - FAST
---
Posts: 29
Joined: Wed Aug 26, 2009 5:23 pm
Location: Fremantle, WA
That shovel is pretty damn cool, but the exhaust looks a bit "wirey"
---
---
I bid and came second.
The owner emailed me and asked if I wanted it because the winner had "issues" with his payment.
I opted out.
750/4 Sonic chopper.
A custom bike or a chopper should be something that has had the original essence of its existence altered to project the skills, objectives and artistic vision of its creator so the viewer or "beholder" and the creator can be positively stimulated by the actual bold or sublime beauty of the bike. Both need to project an essence of suitability, practicality, function and righteousness that has no stand for mediocrity or aesthetic blasphemy.
www.independentparts.com.au
---
Bacca
Denver's Choppers Honda CB750

Up for sale is this blatant piece of custom-bike history. It's one of the first professionally chopped Honda CB750 Fours, done in the early to mid-'70s by the late, great Denver Mullins, one of the prime shakers in the modern chopper movement. Its history as one of Denver's early Hondas has been confirmed by Denver's Choppers partner Mondo Porras and by painter Don Walker, who laid on the outrageous pink paint job.

Later Denver's Hondas used completely fabricated frames, but this example is still based on the stock main frame. As such, it served as a sort of prototype for those future frames (see Street Chopper page in photo gallery) and is heavily modified with a goosenecked steering head, extended springer fork and rigid rear end. The handlebars, footpegs, quad exhaust pipes, sissybar and rear fender are all Denver's period pieces.

Crowning glory is the unique "batwing" gas tank, an attention-grabber par excellence––not to mention certain tender body parts if you're not careful. "Hey, people were smoking a lot of funny stuff back then," says Mondo about the tank's inspiration. For obvious reasons, only a very few choppers left Denver's with this style of tank.

Bike has undergone a recent mechanical make-run, starts on the button. Most of these early choppers have not survived intact. Difficult to ride, they were often crashed, or simply rechopped into something else as fashions changed. Here's a "soul survivor," ready to be ridden or fully restored to its show-stopping originality.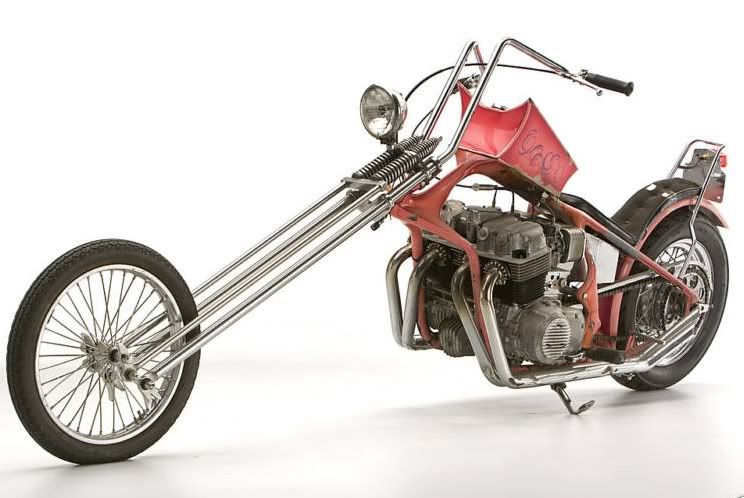 What a great peace of history
---