The bike is a 1974 HD Shovel in a Paughco Rigid Frame , fitted with FatBob Tanks. Since I have had this bike, I have wanted to change its looks & stance by fitting a Sporty or King Sporty Tank. I did not want to butcher the frame by cutting off the FatBob Tank mounts on the Top Tube, plus I wanted the ability to quickly interchange from one tank to another. My brief to Prof was, "Can it be done, and can you do it without the bike?" We decided that it could, and the results will follow here.
This is what the bike looked like with FatBob Tanks fitted.
The work that Prof did is in the previous posts. This is what arrived in the Mailbox!
[/img]
You can see where the old filler cap was removed & the rear box was grafted in. Also wher the "Flat Spot" has been beaten out.
The rear of the filler spout was higher than the front so I wanted to raise this up to reduce this gap. The extra metal at the front also needed to be covered & a smooth curve given to this area.
I used Septone Body Filler, and guided by Profs advice on the 83 Sportster Thread, started the process.
[/img]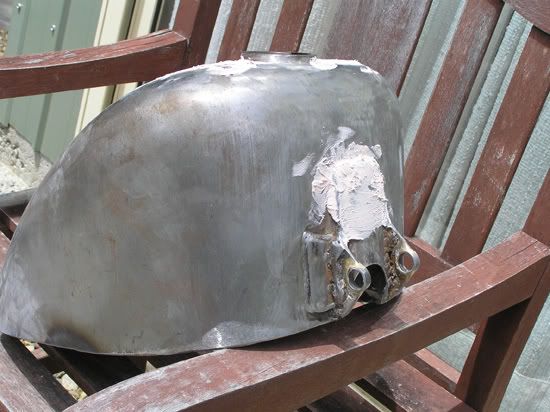 Next ........ Shaping, Finishing, and more!!![/img]