Hi Guys
thought you might enjoy this Beauty.
If I was back in UNZud and had the dough I think I'd buy it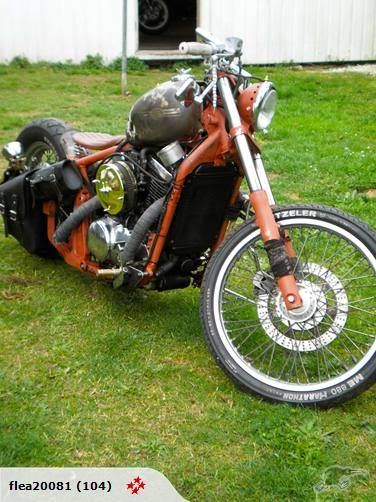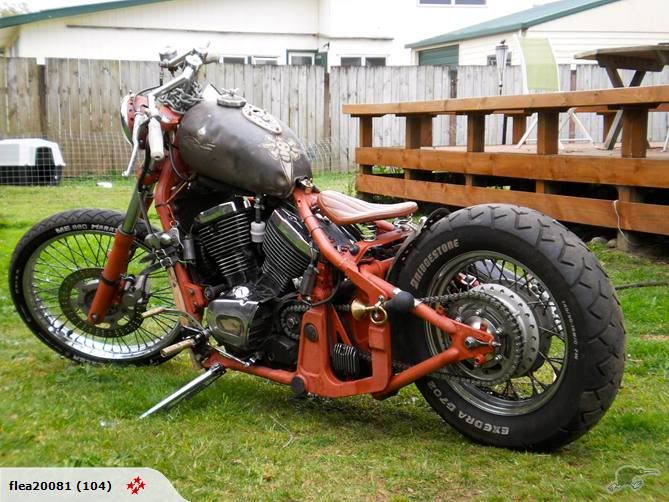 It's for auction on the NZ equivalent of Ebay -Trademe
here's the details
Kawasaki bobber 1995
Current bid: $3,000.00
Reserve not met
Closes: Sun 30 Oct, 9:58 am
Listing #: 415721915
Min next bid: $ Auto-bid Auto-bid site help.
Kawasaki bobber 1995
Kawasaki bobber 1995
ViewView full size photos
Make: Kawasaki
Model: bobber
Engine size: 800cc
Kilometres: 70,000km
Year: 1995
one off vn800 bobber.jawa tank,1930s ford spare wheel cover modified for rear guard,21" front wheel,16" rear,turned down zbars,white coke bottle grips,sprung solo seat,battery relocated to saddle bag,electrics hidden in tool bag,stainless steel model A tailight,all switches removed from bars,handmade brass footpegs,handmade aircleaner,shock removed from rear to make rigid,lots of custom made and personal touches.reg on hold.need indicators and exhuast finished for wof.will need a rejet when pipes are done.i have put my soul into this bike but sadly economics are forceing me to sell.very easy bike to finish for summer.could be keen on swaps or trades for bikes.no cars unless they are pre 80,s.
cheers
al