OK, weather here sucks today so I ain't got much to do other than mull over what I wanna do with the build.
One thing which I got a reminder of recently via a comment on another forum is the rideability of high bars after a while, this particularly applies to me as low blood pressure means that if I keep my arms up for a while, my hands keep goin' to sleep.
Anyway I WAS planning on these lane splitter bars as I thought they'd go well.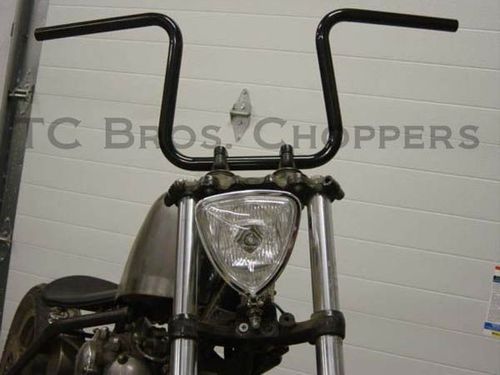 Looking the part is all well and good, but if you can't ride it more than around town, what's the point?
So now I think I'll be going with some dirt bars (without the brace as I don't plan to be jumping, so the bars should be strong enough by themselves)
At about 1/2 the rise, they should do the job better (for me, anyway)
Does anyone have any input on whether or not high bars create issues on longer rides, and/or input on things that cause issues, riding with low blood pressure?
Ta,
Neale